Book now
It's a day many dream about, but with so many enticing hotels and locations to choose from around the world, the choice of where you host a wedding can be daunting. What better way to say 'I do' than at a luxury property with a picturesque backdrop?
Sereno Hotels has three fabulous location choices: Il Sereno and Villa Pliniana in Lake Como, Italy; and Le Sereno on the Caribbean island of St. Barths. Sereno Hotels excels in event planning, whether it's a romantic picnic dinner or a large-scale event, like a wedding. Each accommodation offers a range of sumptuous rooms and suites either overlooking a sparkling lagoon in St. Barths or the wondrous mountain-backed Lake Como, plus gourmet cuisine and high-touch details to make your event extra special.
Villa Pliniana
Sereno Hotels' second Lake Como location is Villa Pliniana by Sereno Hotels. This 16th-century palazzo is Lake Como's oldest villa that dates back to 1573. A true fairytale wedding destination, Villa Pliniana is a private estate set on 18 acres with 10 bedrooms, a private boat dock, a helicopter landing pad, a spa, vast gardens, and Sereno's hotel services. It's one of Lake Como's most exclusive and historic wedding venues and can accommodate up to 200 people seated for dinner. It can be rented privately, as other major celebrities have done in the past, and does not have any sound limitations for music.
Il Sereno
Lake Como has long attracted celebrities, aristocrats, politicians, and socialites to its shores, dotted with luxury hotels and lush gardens. With nearly 500 feet along the lake, Il Sereno is situated within a breathtaking landscape on the East Bank. While this hotel does not host weddings, the contemporary 40-suite property is the perfect complement to Villa Plinina for guests to stay at for your wedding. Il Sereno has its own boating facilities, including two custom Cantiere Ernesto Riva boats and the Vaporina del Lago water limousine with interiors from the hotel's architect.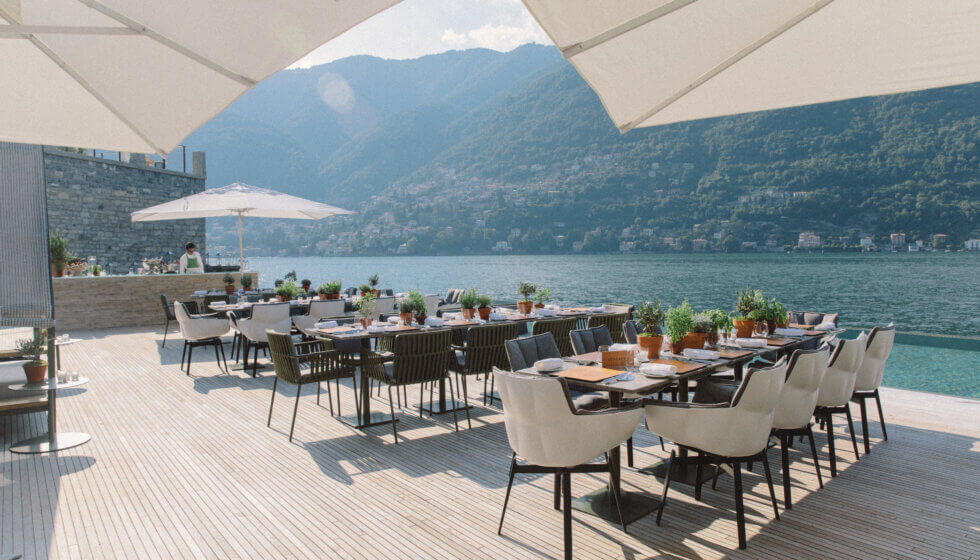 Le Sereno
Your St. Barths wedding awaits. Located on the shores of the crystal-clear Grand Cul de Sac lagoon, Le Sereno's intimate beachfront property is one of the island's most sought-after hotels for its low-key atmosphere, incredible views, and luxury rooms and suites. There are few better places to hold your wedding ceremony or reception than here. Chic, understated, and set against a tropical backdrop, weddings are held throughout the property and each area can be customized to perfection with your choice of florals. Say 'I do!' just mere steps from the ocean. The private setting in the cove makes it feel like you're on your own private island. Le Sereno Al Mare restaurant following the ceremony offers a beautiful waterfront location where you can watch the sunset as you celebrate with your closest family and friends.